Jamaica is a popular tourist destination, and Sandals and Riu resorts are two of the most sought-after resorts on the island. While many tourists come to Jamaica for the beautiful beaches and luxurious accommodations, shopping is also an important aspect of the Jamaican experience. This article aims to highlight the best shopping malls near Sandals Royal Caribbean, Sandals Montego Bay, and Riu Montego Bay, Riu Palace Montego Bay & Riu Reggae resorts.
Riu Resorts & Sandals Resorts are chain of all-inclusive resorts with locations in Montego Bay, Ocho Rios, and Negril. There are several shopping malls located near Riu & Sandals All Inclusive luxury adult only resorts in Montego Bay Area including:
Whitter Village Shopping Mall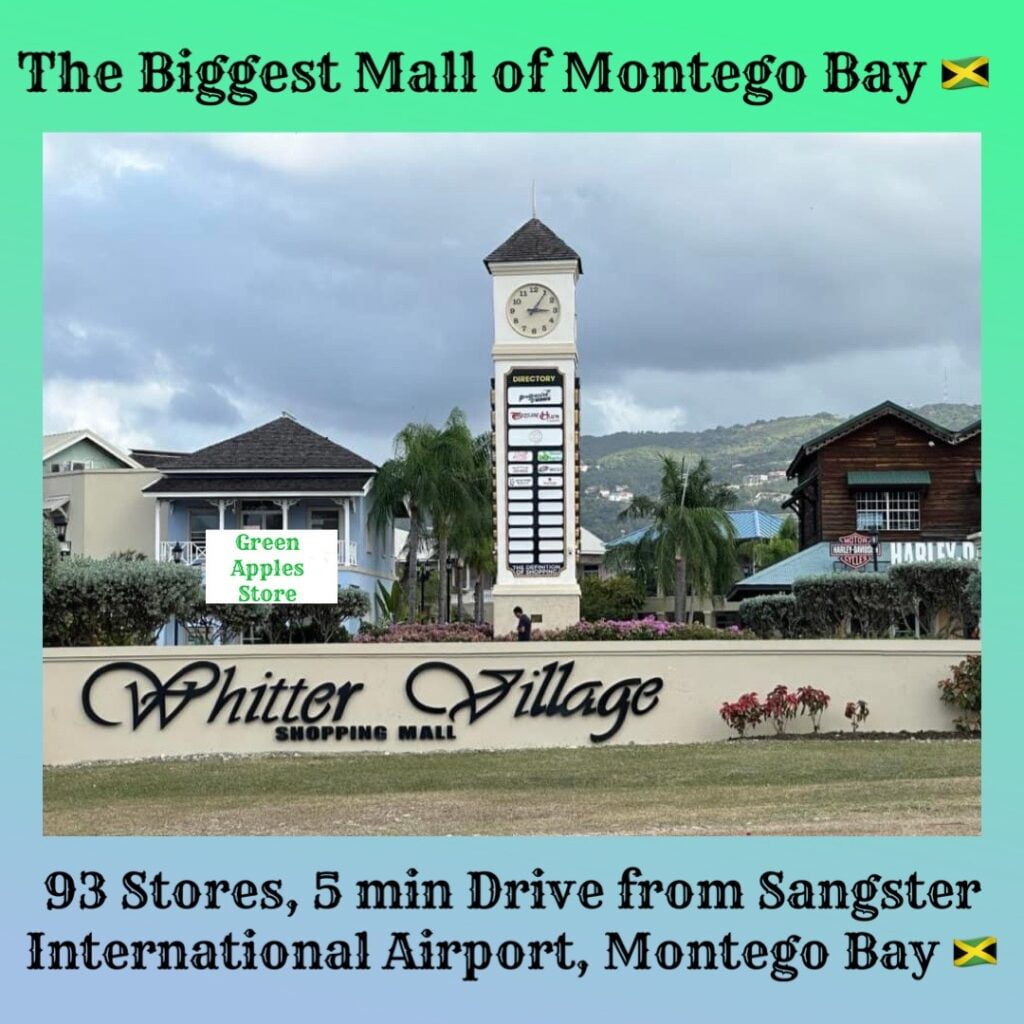 Whitter Village Shopping Mall is a popular choice for visitors staying at Riu & Sandals Resorts.
The mall features a variety of shops ( over 90 stores ) restaurants, and entertainment options. Visitors can find a wide range of items, including Jamaican T-shirts, Bob Marley apparel, local carvings, Jamaican souvenirs, Duty Free Jewelry & Perfume, local and international liquor, Blue Mountain Coffee and hundreds of products you might need when you In Jamaica.
Whitter Village Mall is best choice for locals also because it's have all supermarkets. Pharmacies, USA and Canada Consulate, Local clothing stores, Doctors offices etc..
KFC in Jamaica is popular worldwide because of its unique taste and local chicken. Most of the Tourist visit Jamaica always visit nearest KFC.
KFC location at whitter village mall is ideal choice for visitors staying in Montego Bay because it have drive through and ample of parking for dine in there.
Read Also : ➡️ The best things to do during your stay in Jamaica
The mall also has a liquor store, a smoke shop, and a wine and spirit store, where visitors can find Appleton Estate Rum, Hennessy Pure White, and the world's best Cuban cigars. Additionally, the mall has a coffee shop, a bank ATM, and a pharmacy for visitors' convenience.
For those looking to enjoy the beautiful waters of Jamaica, the mall also has a shop that sells snorkeling gear. And for visitors looking to add some new pieces to their wardrobe, there are shops selling ladies' dresses and swimwear. With so many shopping options available, tourists staying at Sandals and Riu resorts can easily find something to bring back home as a souvenir or gift.
To Book Whitter Village Mall Economical Shopping Shuttle from your Resort ⤵️
The Blue Diamond
The Blue Diamond Shopping Mall is an option also for visitors staying at the Riu & Sandals Resorts. It is situated in the heart of Montego Bay, just a short distance away from the those resorts.
The mall features a mix of local and international retailers, including clothing stores, jewelry shops, and souvenir shops. Visitors can find everything from designer clothing and accessories to local handmade crafts and souvenirs.
Other Shopping Malls in the Area
In addition to the shopping malls near Riu & Sandals Resorts, there are several other shopping options in the area. Main Street Rose Hall is a popular outdoor shopping center with a variety of stores and restaurants. The Fairview Shopping Centre is another option, featuring a mix of local and international retailers.
Read Also : ➡️ The best things to do during your stay in Jamaica
Conclusion
The best shopping malls near Sandals and Riu resorts Montego Bay is undoubtedly Whitter Village Mall. It's just across Sandals Royal Caribbean and all Riu Montego Bay Resorts so that you can just walk to the Mall. To access the mall from Sandals Montego Bay you can take Sandals Shuttle for Royal Caribbean and from Royal Caribbean you can walk to Whitter Village Mall.
Whitter Village Mall is the only mall provides shuttle from Riu & Sandals Resorts and other Resorts in Montego Bay and nearby areas.
Enjoy shopping….