Picture the serene shores of Montego Bay, Jamaica, where the Caribbean's turquoise embrace meets the golden sands. In this idyllic setting, the renowned Riu Resort Group presents three distinct havens: Riu Montego Bay, Riu Reggae, and Riu Palace. Each of these Riu resorts possesses its unique charm, tailored to diverse tastes.
As you stand at the threshold of a Jamaican adventure, you face an exhilarating choice – a lively energy, an intimate sophistication, or opulent luxury. Join us on this comprehensive exploration as we unveil the enchanting narratives of these Jamaican Riu resorts. Our aim is to assist you in making an informed choice, ensuring your Caribbean dreams take form precisely as you desire.
Riu Montego Bay
Riu Montego Bay, situated along the picturesque coastline of Montego Bay, Jamaica, offers a tropical haven with easy access just a short drive from Sangster International Airport.
The resort's layout is designed for convenience, ensuring that guests can effortlessly reach the pristine beaches, sparkling pools, and a variety of amenities.
Accommodation options range from standard rooms to luxurious suites and oceanfront villas, each well-appointed with modern facilities and private balconies or terraces.
The resort's dining experiences are diverse, celebrating authentic Jamaican flavors while also offering international cuisine and an array of beverages in bars and lounges.
At Riu Montego Bay, the fun never ends with a plethora of on-site activities, from water sports to swimming pools.
Read Also: The best things to do during your stay in Jamaica
The energetic entertainment crew ensures a vibrant atmosphere with dance classes, evening shows, and lively performances.
What sets Riu Montego Bay apart are its unique features including its direct beachfront access to the Caribbean's clear waters, and the warm and welcoming staff who make guests feel right at home in this Jamaican paradise.
Riu Reggae
Riu Reggae is a Jamaican gem located in Montego Bay, offering a distinct atmosphere that sets it apart. This adults-only resort is perched in a prime location, exuding a serene and sophisticated ambiance.
With its prime beachfront setting and close proximity to Sangster International Airport, Riu Reggae provides a tranquil escape for couples and adults looking to unwind in style.
To Book Whitter Village Mall Economical Shopping Shuttle from your Resort ⤵️
Accommodations at Riu Reggae come in various forms, providing a luxurious retreat for guests. The resort features well-appointed rooms with modern amenities and elegant touches, including cozy king-sized beds, in-room Jacuzzi tubs, and private balconies or terraces.
Read Also: The best things to do during your stay in Jamaica
The dining options at Riu Reggae are nothing short of exceptional, offering a range of culinary delights from local Jamaican flavors to international cuisine. Guests can indulge in delectable dishes at a variety of restaurants, complemented by well-crafted cocktails at the bars and lounges.
What truly distinguishes Riu Reggae is its vibrant entertainment and lively activities tailored for adults. The resort's entertainment crew is known for creating an atmosphere of fun and excitement, including dance performances and engaging activities to keep guests entertained. Riu Reggae offers the perfect setting for couples and adults looking for a serene yet lively escape in beautiful Montego Bay, Jamaica.
Riu Palace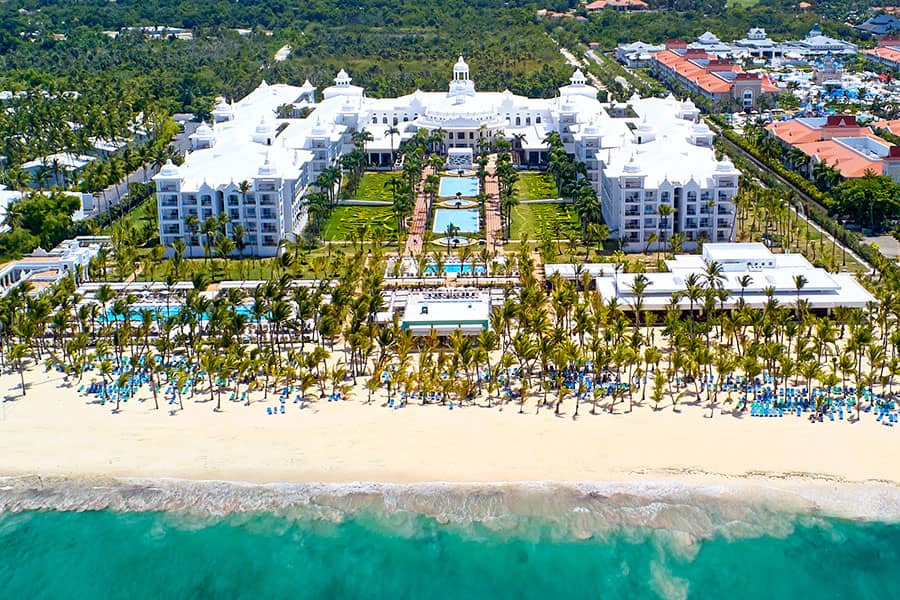 Riu Palace stands as the epitome of luxury and sophistication in the heart of Montego Bay, Jamaica. The resort's location and ambiance exude elegance and opulence, making it a prime choice for travelers seeking a refined vacation experience. Situated on the breathtaking shores of Montego Bay, it offers a serene and upscale atmosphere, all while being conveniently located near Sangster International Airport.
The accommodation options at Riu Palace are a testament to luxury, with various room categories designed to pamper guests. Rooms feature lavish amenities such as plush king-sized beds, spacious living areas, and well-appointed bathrooms, often including Jacuzzi tubs. This attention to detail ensures a truly luxurious stay. Fine dining at Riu Palace is an art form, with gourmet restaurants serving up delectable gastronomic experiences. The resort offers a range of culinary delights, from Jamaican specialties to international cuisines, all served in a sumptuous atmosphere. Guests can complement their dining experience with top-notch beverages at the resort's bars and lounges.
Riu Palace offers exclusive entertainment and activities to match its luxury status. Guests can indulge in refined entertainment options, including live music, elegant evening shows, and a spa for relaxation. What sets Riu Palace apart is its dedication to providing a regal vacation experience with a high level of personalized service and sophistication. It's a haven for travelers seeking the utmost in luxury and comfort while enjoying the beauty of Jamaica's Montego Bay.
Comparative Analysis
Accommodation is a critical factor when choosing the perfect resort for your Jamaican vacation. Riu Montego Bay, being an adults-only resort offers a diverse range of rooms, including standard options and spacious suites. These accommodations cater to different tastes and budgets, providing a comfortable stay. The choice of room views allows guests to personalize their experience, with options ranging from garden views to stunning pool or ocean vistas.
Read Also: The best things to do during your stay in Jamaica
On the other hand, Riu Reggae, also an adults-only resort, focuses on providing more intimate and sophisticated accommodation options. It offers suites with upscale amenities and the possibility of oceanfront rooms. Riu Palace stands out with luxurious room categories, often equipped with Jacuzzi tubs and lavish living spaces. Guests can savor stunning oceanfront views, immersing themselves in the serene beauty of Montego Bay.
Dining
Dining experiences are a highlight at all three resorts, each offering a unique culinary journey. Riu Montego Bay boasts a wide variety of dining options, catering to diverse tastes and preferences. Guests can explore an array of culinary offerings, both Jamaican specialties and international dishes. The resort's buffet-style and a la carte restaurants ensure that you have plenty of choices.
Riu Reggae, as an adults-only paradise, offers a more refined dining experience, concentrating on quality over quantity. The resort provides a delightful array of Jamaican flavors and international cuisine, perfect for couples seeking a romantic getaway. In contrast, Riu Palace is the epitome of fine dining, with gourmet restaurants serving exquisite dishes in a sumptuous atmosphere. The resort's commitment to gastronomic excellence sets it apart.
Entertainment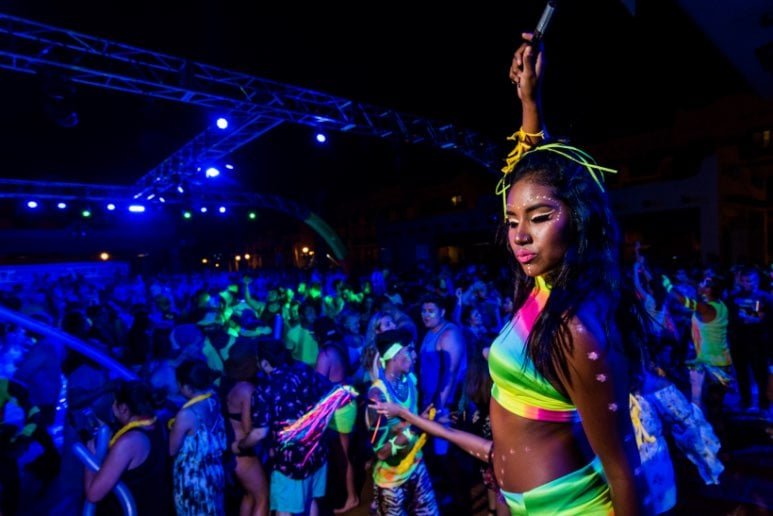 Entertainment plays a crucial role in shaping your vacation experience. Riu Montego Bay and Riu Reggae are known for their lively entertainment crews that keep the atmosphere vibrant and exciting. Guests can partake in a range of activities, from dance classes to engaging evening shows. Riu Reggae particularly shines with its famous foam parties and Friday night extravaganzas, creating a high-energy ambiance that's perfect for those who want to dance the night away.
In contrast, Riu Palace takes a more sophisticated approach to entertainment, offering a refined and elegant atmosphere. Here, you can enjoy live music and graceful evening shows that cater to a more discerning audience. The difference in entertainment styles is one of the factors that sets each resort apart.
Access and Inclusivity
Riu Montego Bay and Riu Reggae have a unique relationship, allowing guests of one resort to access the amenities and experiences of the other. This offers flexibility for travelers who want to explore multiple resorts during their stay. However, it's important to note that access to Riu Palace is not available from Riu Reggae.
Read Also: The best things to do during your stay in Jamaica
Therefore, your choice may depend on whether you prefer the option to venture between resorts or focus on the offerings of a single location.
Guest Preferences
When making your final decision, it's crucial to consider your personal preferences and vacation goals. Each resort caters to a different type of traveler, so you should align your choice with the ambiance, inclusivity, and entertainment style that matches your ideal getaway.
Differences between Riu Montego Bay, Riu Reggae, and Riu Palace
In summary, Riu Montego Bay offers a vibrant atmosphere, providing an array of amenities for guests as an adults- only resort. Riu Reggae, as an adults-only paradise, is known for its lively parties and intimate setting, perfect for couples and adults looking for relaxation and excitement. Riu Palace stands out as a luxurious and sophisticated resort, offering a refined experience that's ideal for those seeking upscale indulgence. Understanding these differences will help you make an informed decision, ensuring that your Jamaican vacation aligns perfectly with your personal preferences and travel goals.
Conclusion
As you make your choice, consider your personal preferences and vacation aspirations. Your decision will ultimately revolve around what you value most in a tropical getaway – be it the vibrancy of Riu Montego Bay, the elegance of Riu Reggae, or the opulence of Riu Palace. Whichever you choose, your Jamaican vacation promises to be an unforgettable experience in paradise.